Current Listings
Details are below. Click here for CDWC-sponsored (and co-sponsored) programs.
Jan 25 - Training - Effective Political Persuasion
Jan 26 - Forum - Brexit: Financial, U.S., and International Impact
Jan 26 - Friendraiser - Monique Smith for Ohio House District 16
Jan 27 - Fundraiser: Jennifer Brunner for Ohio Supreme Court Justice
Jan 28 - Fundraiser: Jennifer O'Donnell for Judge
Canceled: Jan 28 - Lecture - Black Women's Struggle for Voting Rights
Jan 29 - Health & Human Services Levy Campaign Kickoff Event
Jan 30 - Fundraiser: State Representative Juanita Brent
Jan 30 - Forum - Closing the Achievement Gap: Preschool and Early Child Education
Feb 2 - Forum - Diversity and Inclusion: Top Down or Bottom Up?
Feb 10 - School Funding in Ohio: The Possibilities and Challenges of Creating a Solution
Feb 27 - Lecture - Beyond Suffrage: Women's Reform Networks and the Road for Women's Rights
Feb 28 - City Club Forum: The Twilight of Judicial Independence
Apr 1 - Film Screening: Join the Cuyahoga County Democratic Party for ACTIVIZED
---
SPACE IS LIMITED. YOU MUST RSVP!

SPACE IS LIMITED. YOU MUST RSVP!
---
Part of a series of discussions on important issues that impact our lives


Sunday, January 26, 2020

9:30 am

Unitarian Universalist Congregation of Cleveland

21600 Shaker Blvd, Shaker Heights


Brexit: Financial, U.S., and International Impact
Elliot Posner, Professor and Acting Chair, CWRU Department of Political Science


Alliances among nations are weakening. Why does Great Britain want to leave the European Union? Might other countries leave the E.U. also? How does this affect us? If Britain's tariff-free status with other E.U. members is eliminated, how will U.S. trade and travel in these countries be affected.


---
Ready to see a change in Ohio? If so, join us at the Friendraiser for Monique Smith, Candidate for State Representative of Ohio District 16. Come and hear her speak about the policies coming out of Columbus and what she plans to do about them.
Ohio District 16 includes the great communities of Bay Village, Fairview Park, North Olmsted, Rocky River, and Westlake.
*RSVP that you are "Going" via
Facebook
and we will message you the address!
All funds raised through this event support Monique Smith.
---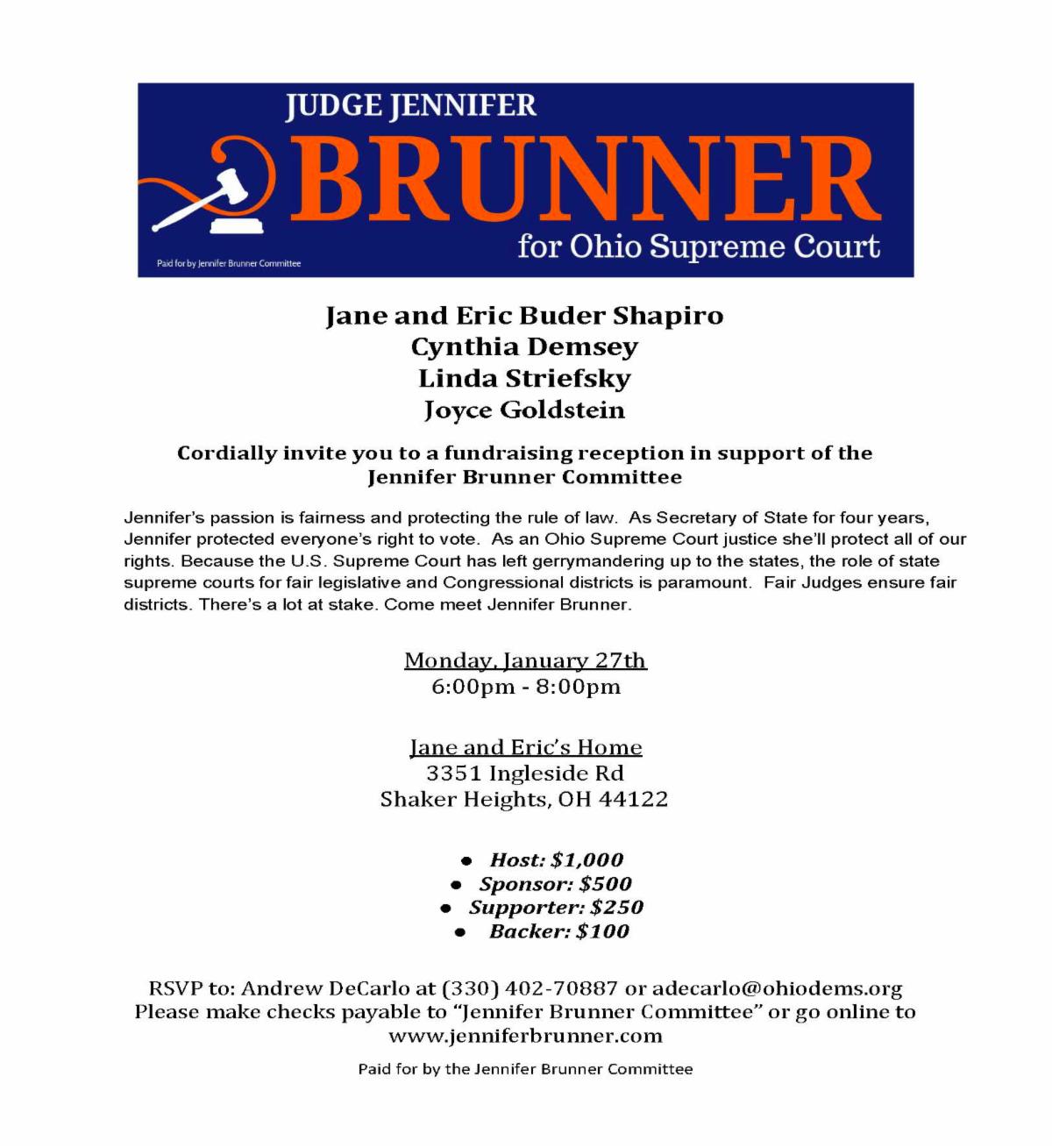 Contribute online at www.jenniferbrunner.com
---
---
THIS EVENT HAS BEEN CANCELED.
CWRU Assoc. Prof. Joy Bostic will start off LWV Greater Cleveland's 2020 Women's Empowerment
Series with a talk that will delve into the core values and organizing strategies Black women use locally
and nationally in the struggle for inclusive voting rights in the United States.
---
Please join
County Executive
Armond Budish
County Council President
Dan Brady
Cleveland Mayor
Frank Jackson
MetroHealth CEO
Akram Boutros
and other community leaders
FOR THE 2020 CUYAHOGA COUNTY
HEALTH & HUMAN SERVICES LEVY
CAMPAIGN KICKOFF
Wednesday, January 29, 2020
11:00am
MetroHealth Medical Center Rammelkamp Atrium
2500 MetroHealth Drive, Cleveland 44109
Issue 33, the Cuyahoga Health and Human Services levy on the March 2020 ballot, will provide funding for critical health and human services programs that support children, seniors, and families across Cuyahoga County.
Every year, more than 400,000 people from more than 200,000 families access Cuyahoga County's health and human services system.
JOIN US on January 29 as we kick off the campaign for Issue 33 and ask for the public's continued support for Health and Human Services.
Issue 33 funds critical resources for Cuyahoga County residents, including:
Children who are at risk of abuse and neglect

People with mental illnesses or an addiction

People with serious health issues

Victims of crime

Senior citizens and people with disabilities
We look forward to seeing you on January 29 and
thank you in advance for your support!
Directions and parking:
The MetroHealth Rammelkamp Atrium is near the main hospital entrance.
Parking is available in the MetroHealth visitors garage.
Due to limited parking and the time to walk from your parking space to the atrium, we recommend arriving by 10:30am.
County Action Committee
Copyright © 2019, All rights reserved.
Our mailing address is:
County Action Committee
4033 Harding Dr, Westlake, OH 44145
---
---
The role of PreK in closing the achievement gap is clear.
Engage with experts discussing the difference early childhood education makes and Shaker Schools' preK plans.
Panelists:

Rebekah Dorman
, Director, Cuyahoga County Office of Early Childhood/Invest in Children
Billie Osborne Fears
, Executive Director, Starting Point
Dr. Marla Robinson, Chief Academic Officer, Shaker Hts. Schools
Moderated by
Sharon Broussard, former editorial writer, The Plain Dealer/Cleveland.com
Co-sponsored by Shaker Heights Public Library and
League of Women Voters Greater Cleveland-Shaker Heights Chapter
---
Community Forum

Part of a series of discussions on important issues that impact our lives


Sunday, February 2, 2020

9:30 am

Unitarian Universalist Congregation of Cleveland

21600 Shaker Blvd, Shaker Heights


Diversity and Inclusion: Top Down or Bottom Up?

Randall McShepard, Vice-President of Public Affairs, RPM Inc. and Chair, Policy Bridge with John Paul Stephens, Associate Professor, Organizational Behavior, CWRU Weatherhead School of Management.


What constitutes a healthy, growing, diverse Community? Is it passionate commitment from the bottom up, or engaged leadership from the top down? What are the impediments to develop new diverse leadership? How do we personally experience real diversity or inclusion in the community or workplace?


---
---
Women's Reform Networks and the Road for Women's Rights
Lecture by Einav Rabinovitch-Fox, Visiting Assistant Professor of History, Case Western Reserve University (CWRU)
Thursday, February 27, 2020

7:00pm

Landmark Centre Building

25700 Science Park Dr #100, Beachwood 44122


This talk will explore how the local activism of women in various reform causes in Cleveland and elsewhere led to their involvement in the suffrage movement, thus situating the right to vote in a broader activist agenda to advance women's rights and equality before and after the ratification of the 19th Amendment.


The lecture is free and open to the public, but
registration
is recommended.
Sponsored by The League of Women Voters of Greater Cleveland and Seigal Lifelong Learning, CWRU
---
The City Club of Cleveland

presents

The Twilight of Judicial Independence

with

Charles Geyh, John F. Kimberling Professor of Law, Maurer School of Law, Indiana University at Bloomingon
Friday, February 28, 2020

12:00 p.m. - 1:30 p.m.

The City Club of Cleveland

850 Euclid Avenue Cleveland, Ohio 44114


Judicial independence, the ability of courts and judges to perform their duties free of influence or control by other branches of government or shifting popular opinion, has been a defining feature of the American Constitutional landscape for centuries. The architecture of judicial independence, however, has never been fully explained or understood.


As long as the foundations of judicial independence have remained sound and the structure has been adequate to support the weight of episodic attacks, there has been no pressing need to fully understand why or how. But that is changing due to developments - including the current Presidents' questioning the legitimacy of judges who disagree with him and giving agencies room to ignore court rulings - that are variously cyclical, sustained, and sudden.


Many believe these developments threaten the future of an independent judiciary in arguably unprecedented ways, and counsel the need for a deeper, and more systemic evaluation of judicial independence and its vulnerabilities. How did the architecture of judicial independence norms begin -and when did they start to erode? Why is independence essential to the role of the judiciary in American government, and how it can be rescued and defended?


The City Club of Cleveland

---
Join the Cuyahoga County Democratic Party
at Capitol Theatre for a film screening!
The film's director is Eric Stange, an award-winning independent documentary film producer, director, and writer who specializes in current affairs.
Many of his works have been featured on PBS American Experience.
Cuyahoga County Democratic Party